ENNISCORTHY CASTLE
Enniscorthy Castle is situated in the historic town of Enniscorthy, Co. Wexford.
The first construction on the site was undertaken over 800 years ago and the castle has played an important part in the development of the town of Enniscorthy, having witnessed many battles, sieges and even a visit by Cromwell's forces in 1649.
Originally home to the Anglo-Norman de Prendergast family, ownership of the castle has changed hands many times and has included the MacMurrough Kavanagh clan, Sir Henry Wallop and the Earl of Portsmouth. The Roche family were the last to live there, departing in 1951.
Over the years, the castle has had a truly spectacular history and has been ruined a number of times, served as a prison during the 1798 rebellion, was used as billet accomodation for extra police drafted in during the Fenian Rising, served as a prison in the early 1900's, was occupied by the Irish Volunteers during the 1916 Easter Rising, was commandeered by the Free State Army during the Irish Civil War and more recently became a museum.
Wexford Paranormal first visited the castle in early 2011 and have returned many times since then. In 2012, paranormal investigation teams from around Ireland also started to visit Enniscorthy Castle.
On one of our very first visits to Enniscorthy Castle, We were joined by a journalist who was doing a piece on the group and a press photographer. We received some ITC responses and since then we have had numerous further contacts from 'Jim' who revealed such information as his firstname, surname, his wife and son's names and following up on this information we were able to locate them in the census of 1901, including where they lived in the area at the time.
Further research showed us that he still has family living in the area and as such we have taken the decision to not release his surname. We are currently carrying our further research into 'Jim' and his family based on the information we have been given. The recording of our initial contact with 'Jim' is available in the EVP section of our website.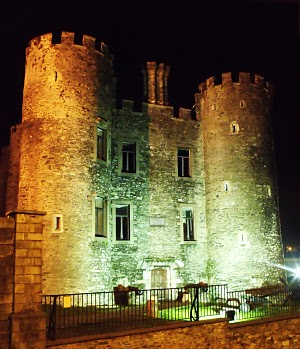 Address
Enniscorthy Castle
Castle Hill Street,
Enniscorthy,
Co. Wexford
Phone / Email
Direct Phone:- 053-9234699
Wexford Paranormal 087-2406074
Email: info@enniscorthycastle.ie
SatNav Co-Ords:
LAT 52.50134
LON -6.56728
Hotel Accomodation
Riverside Park Hotel & Leisure Club,
Phone: +353 (0)53 9237800
Email: info@riversideparkhotel.com
Treacy's Hotel
Phone: +353 (0)53 923 7798
Email: info@treacyshotel.com
B&B / Guesthouse Accomodation
Mountfin House
Phone: +353 (0)83 8571031
Email: paul@marketireland.ie
Anam Cara Guesthouse
Phone: +353 (0)53 9261895
reservations@anamcaraguesthouse.com
B&B / Guesthouse Accomodation
The Old Deanery Holiday Cottages
Phone: +353 (0)87 2633355
Email: info@theolddeanery.com
Lemongrove Guest House
Phone: +353 (0)53 9236115
Email: info@lemongrovehouse.ie
On behalf of the team i would like to thank Michael for a brilliant night @ Enniscorthy Castle, and was a pleasure to be there. Nice to meet the rest of Wexford Paranormal Team as well. I know some of us will DEFINITELY be back…….
Bill Rabbitte
had an absolutely AMAZING night last night in Enniscorthy Castle with Laura Hennessy and Michael Benson and loads of other cool people 🙂 Will defo be going back 🙂 I enjoyed it so much I'll be back next month even though i have the flora mini marathon the next morning 🙂
Caroline Kavanagh
I would like to say a HUGE THANK YOU to Michael and the team for their hospitality last night the energies were beautiful, the location brilliant.. but most of all you guys you all made a fantastic night very special xxx
Helen Banfield
Wow is all I can say !! What an amazing night with u guys can't wait to do it again 🙂
Lisa Byrne Elmas
Cracker of a night in enniscorty castle 🙂 wel done guys 🙂 cant wait 4 round 2!
Sarah Black
Just in bed after a totes amazing night with wex paranormal in enniscorthy castle!!!
Sandra Hornick
It was a truly amazing weekend at the Castle and I can not settle one bit now I am home.
Wendy Coulson
A big thank you to all at Wexford paranormal for a brilliant night at Enniscorthy castle last night. Really enjoyed it 🙂
Emily O'Sullivan
Wat a amazing night last night .. Had such a great time .. Thanks guys
Karen Byrne